APPLICATION
Application Method
1. Please read carefully
TERMS AND REGULATIONS FOR PARTICIPATION
and accept it.
2. Fill out the entry form (to be downloaded), and send to secretariat of N-EXPO TOKYO 2019 by FAX or post. The application form shall be accompanied by the required deposit equivalent to 50% of the total space rental and stand charges. The submission of the application form shall be deemed to be confirmation of participation and acceptance of the Terms and Regulations for Participation.
3. After the application has been received and the contents of the application have been confirmed, Invoice will be sent to you.


GUIDELINE
Participation Costs
Indoor
Space & Packaged Shell Booth
JY432,000/9m2
Space Only
JY35,600/m2 (Min. 54m2)
Outdoor
Space Only
JY27,000/m2 (Min. 9m2)
Booth layout
Please select the booth type from the following booth layout.
| | | | |
| --- | --- | --- | --- |
| TYPE | Single Line | Double Line | Block type |
| LAYOUT | | | |
| NUMBER OF BOOTH | from 1 booth | from 4 booths | More than 10 booths |
Space & Packaged Shell Booth
1)Space & Packaged Shell Booth include;
Back and side panels (3), fascia with exhibirtor's name (1), information counter (1), carpet (1), chair (1), fluorescent light (2), main wiring AC 100V & current charge, outlet (100V/50Hz).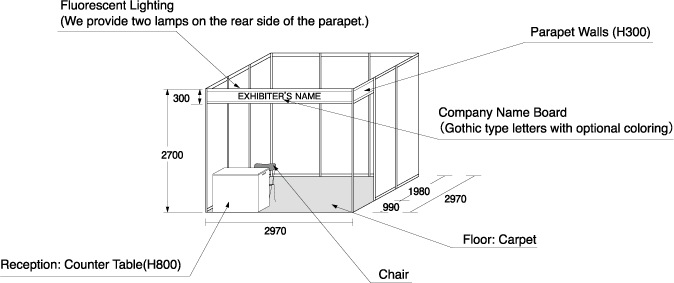 2)Rental equipments:
Rental equipments, such as chair, desk, video, light etc., will be available for order by specified order forms
3)Sample Color of Carpet

4)Sample Color of Cutting Sheet for Company Name Board

Deadline for application
Oct., 12, 2018
Full Payment
Dec., 25, 2018
Floor Plan
Middle of Jan., 2019
Cancellation
Under no circumstances will Exhibitors be permitted to withdraw, cancel or reduce their space booking from the Exhibition. However, the Organizers may consider special cases under the terms and conditions stipulated below:
1) 90 days prior to the exhibition - 50% refund
2) 60 days prior to the exhibition - 25% refund
3) 30 days prior to the exhibition - No refund

Schedule in 2019 (planned)
Early October 2018
(web) Dedicated site for exhibitors
Start sending out exhibition manuals to exhibitors

⇒

October 12, 2018
Deadline for exhibitor applications

⇒

By December 25, 2018
Exhibition fee payment date

⇒

Mid-January 2019
(Web)Floor plan begins
Deadline for directory entry

⇒

Late January 2019
Start of sending of invitations to exhibitors

⇒

Early March 2019
(Web)
Exhibitor information begins
Floor map begins

⇒

 March 10 and 11 Move-in of exhibits
 March 12 to 15 Exhibition dates
 March 15 Move-out of exhibits
* For details, see the manual for exhibitors.
N-EXPO 2019 TOKYO SECRETARIAT
ADDRESS
1-5, Misaki-cho 3-chome, Chiyoda-ku, Tokyo 101-0061 JAPAN
TEL.
+81-3-5213-8847
FAX.
+81-3-5276-4432
MAIL
event@nippo.co.jp
REMITTANCE
NIPPO BUSINESS CO., LTD.
Mitsui Sumitomo Banking Corporation, Kanda Branch Account No.268983
Swift address: SMBCJPJT
Adress: 1-1, kanda-ogawamachi, Chiyoda-ku, Tokyo 101-0052 Japan